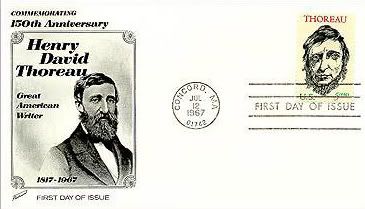 All that a man has to say or do that can possibly concern mankind is in some shape or other to tell the story of his love – and to sing; and if he is fortunate and keeps alive, he will be forever in love
Three of the books that I was reading last month referenced or quoted Thoreau, which has awaked a need to move him off the shelf and toward the top of the *to read* pile -- it's been too long. (I am currently reading the Nicholas Shakespeare biography of Bruce Chatwin, which I am enjoying but still finding a very slow read, and I have ordered some of the young adult books you recommended, so it may yet be awhile.)
In 1967 the postage stamp above was issued. As I sat at my desk in English class (Maria Regina Diocesan HS) writing in my class journal, my favorite teacher leaned over and stuck the stamp on the cover of my commonplace book.
There are some things I love because I read them at the perfect time, several of them which I have come to understand would never have made their mark otherwise. I think I would have been captivated by Thoreau whenever I encountered him, but it happened to be 1967. I have been wondering today how much of an effect that had.
A couple of years back, I bought Chris (
elladans_witch
) a calendar for her stocking with literary photos and references sprinkled through it. She called me from work to share the day she reached the entry for "Thoreau accidentally burns down a woods."