Apparently, they hold an annual *peep show* in Washington, D.C. where people enter dioramas featuring Peeps (and other denizens of the Just Born universe. I knew nothing of this until my buddy Toby of Tubeworld featured one of this year's entries, "As seen on Peep tv."

This year's winner was The Night Peeps, seen below: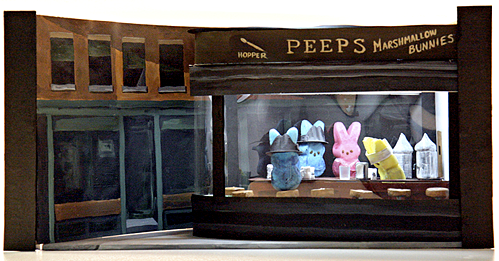 Follow this link to see the 40 finalists (and just below it on the page is a link to last year's finalists). They aren't all as brilliant as this one (or the peep chickens hanging in the window of the Chinese restaurant) but they are worth the trip.

And I think I may need the Woodstock poster as a desktop. After all, Woodstock was my 17th birthday!