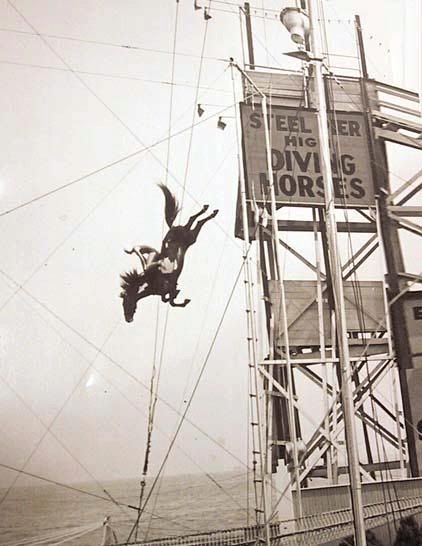 I have had a version of this in my desktop rotation for some time, but the other night I encountered someone on pinterest (I'm here) who had pinned it and so I had a moment of unexpected nostalgia.

We didn't travel about much when I was little, especially since we lived so close to the beach (my travelling days came later, usually with a favorite great aunt.) But when I was about 5 or 6, my grandfather took me to see the diving horses at Atlantic City.

I can remember walking the boardwalk in the rain, and standing with my back to the pilings in the dark, looking at the stars. And of course, the diving horses. Like so many little girls in the 50's. I loved everything about horses - but this was beyond anything I expected.

I think I initially expected them to fly, and sort of stopped breathing when they plunged down, down down. Then I was boggled by them swimming.

A few years ago, I read about Sonora Webster Carver, who rode the diving horses and was blinded in 1931 when the impact of the water detached her retinas. She continued in the show for another 11 years. Well before my time, of course - I was there in 1957 or 8.

They stopped the shows in the late 70's. I am both surprised that they let it go on so long, and crushed for little me that I can never go back.